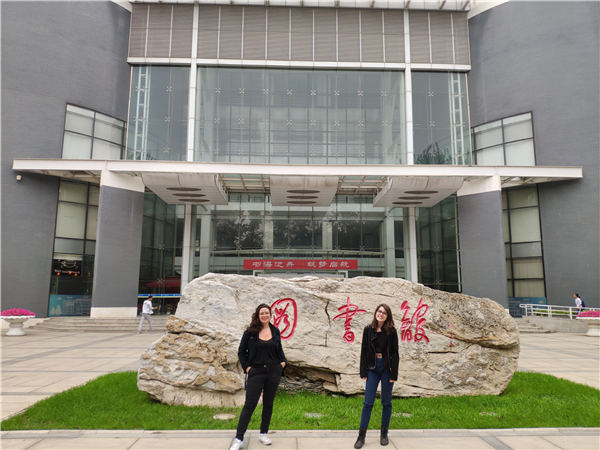 Brazilian students Ana Paula Castro (left) and Leticia Santos Lula are studying in Beijing as part of the China-Brazil Earth Resources Satellite cooperation program. [Photo provided to China Daily]
BRASILIA - A group of Brazilian students have recently started postgraduate studies at the Beihang University, previously known as Beijing University of Aeronautics and Astronautics, as part of the China-Brazil Earth Resources Satellite cooperation program, which turns 30 this year.
Thanks to the program, three groups of Brazilian students have already had the opportunity to hone their skills in China.
The cooperation goes beyond hardware to human resources, according to the president of the Brazilian Space Agency, Jose Raimundo Braga Coelho.
"Since China has the BUAA, which specifically works in the space field, we expanded our cooperation to the area of human resources," says Coelho.
"We have sent people to do postgraduate and specialization courses, all financed by China, which shows its great regard for Brazil," he adds.
The program which began in 1988 has become a model of South-South scientific and technological cooperation, benefiting both countries.
Currently, eight Brazilian universities offer degrees in the aerospace field, which in itself is already a great achievement, says Coelho.
The Regional Center for Space Science and Technology Education in Asia and the Pacific, which was inaugurated at the BUAA in 2014, offers scholarships for Brazilian students in the master's and PhD programs in space technology.
Brazilian students, who are granted scholarships at the BUAA, take the required Mandarin courses and receive free lodging on campus and a monthly stipend.
Their studies range from global satellite navigation systems to space law.
"Space law is a very important topic," says Coelho, adding there is a need for the creation of laws for the peaceful use of space, and China has created this specific course.
Ana Paula Castro, a major of aerospace engineering who graduated from the University of Brasilia, is among the new batch of students who recently began studying in Beijing.
"When I found out about the opportunity to study space law, I was very interested, because in Brazil we don't have too many specialists in the area," says Castro.
"I think it can open many doors for me, and it could also be a way for me to contribute to the Brazilian aerospace sector."
Meanwhile, Castro has submitted a preliminary project on space garbage that "looks" 100 years into the future to see what might happen if measures are not taken now to regulate waste in space.
"A professor also proposed that I research the potential benefits of space for the world's poor communities," she says.
Leticia Santos Lula, another graduate of the University of Brasilia, is doing a master's degree in microsatellite technology in Beijing on the recommendation of one of her predecessors.
"A friend came last year to study ... He had other options in Brazil, but chose to do his master's in China and he told us it was a very good decision," says Lula.
She did not rule out staying on in China if the opportunity arises.
"I'm going with the hope that, along the way, other opportunities will come up. It could be in my academic career, in industry, if some opportunity presents itself to stay there I may go for it," she says.