The English is GREAT Teacher Award 2018 has been launched by the British Council, to recognize and celebrate the achievements of China's non-native English teachers.
The English is GREAT Teacher Award is the first major initiative of the year-long English is GREAT campaign, which was announced during UK Prime Minister Theresa May's official visit to China in January 2018. This award will not only honor Chinese teachers of English, but will also serve as a means for all teachers to share best practices for encouraging greater speaking proficiency among students, and understanding new and innovative teaching approaches.
Carma Elliot, country director for China at the British Council, said at the launch ceremony, "I am delighted that the English is GREAT campaign starts with this Teacher Award, recognizing outstanding individuals who, every day and in many different ways, share their passion for the English language with more than 300 million English language students in China."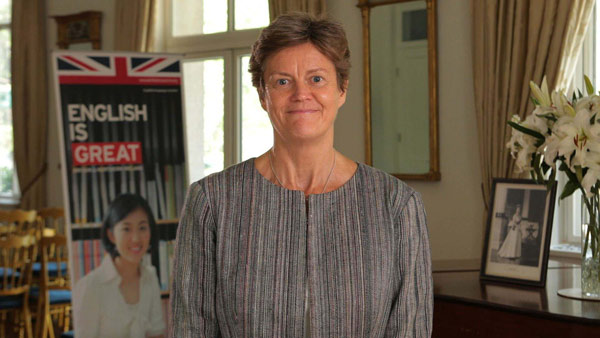 Barbara Woodward, British ambassador to China. [Photo provided to chinadaily.com.cn]
From April until the end of November, a monthly award winner will be selected and receive a cash prize of 3,000 yuan ($477), an award certificate and an invitation to attend the final award ceremony in December where monthly winners will enter a grand finale to determine the 2018 English is GREAT Teacher Award winner. The overall winner will receive a four-week study trip to the UK, courtesy of International House London.
The award welcomes applications from all non-native English teachers of Chinese nationality who are above 22 years old, whether from state or privately funded schools, or English training centers and organizations. A short video must be submitted as part of the online application. Applications close on the 24th of each month, at which point applications for the following month will open. The results will be announced the first working Monday of each month.
The English is GREAT Teacher Award has been sponsored by UYoung and International House London, and is also supported by China Daily and 21st Century English Education Media.
More information about the Award and the application process is available at http://pub1.chinadaily.com.cn/teacheraward/