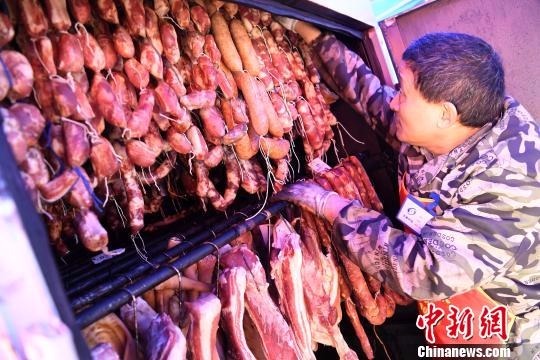 [Photo/Chinanews.com]
Chongqing has introduced a smoke-free device to allow residents to once again make smoked bacon, after the traditional method was banned for contributing to air pollution.
The new environmentally friendly machine consists of three parts - a metal smoking box, plus cooling and purifying systems. The bacon is hung surrounded by smoke from burning cypress branches, and the smoke is cooled before it is purified and emitted into the air.
"The smoked bacon made by this machine can preserve the original taste and protect the environment," said Zhang Zhong, who owns a site designated for smoking meat.
Eating preserved pork and sausages is a long-held tradition in Chongqing and the neighboring provinces of Sichuan and Guizhou, and many families make smoked bacon before Chinese New Year.
People traditionally hang the meat above a metal bucket that contains burning tree branches, but since 2015 residents have been prohibited from making smoked bacon in this fashion in major districts.
"The heavy choking smoke caused people to call firefighters and led to conflicts among neighbors," said Liu Jiao, an official for a residential community.
But the ban invited public ridicule and skepticism on the internet.
This winter, the Chongqing government asked an environmental protection equipment business to design and manufacture a smoke-free machine for fans of the meat.
According to the city's ecological and environmental monitoring center, with the help of the new machine, the density of fine particulate matter has been reduced to around 3 milligrams per cubic meter. Levels reached 500 mg per cu m when using traditional bacon-smoking methods.
The government has installed the machines at designated meat-smoking sites on every applicable street and in every applicable residential community. In Yubei district alone, there are more than 90 sites.
"Each machine costs more than 30,000 yuan ($4,660), and they are purchased or rented by local authorities or site owners," said Li Liaoyuan, an official with a subdistrict office in Yubei.
City resident Li Yanfang has already made more than 25 kilograms of smoked bacon, sausages and pigs' feet using a designated smoking site.
"Although makingsmoked bacon is a small thing, the new machine shows the local government's shift from banning issues to solving issues," Li said.