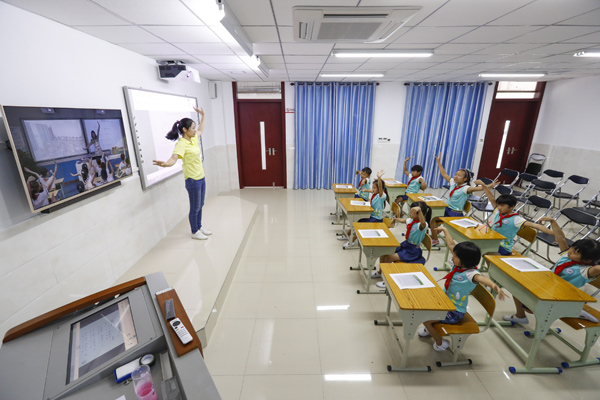 With the help of online distance education system, teacher Zhang Li (left) guides a music class at Yongxing School in Sansha, Hainan province, together with another class in Binhai No 9 Elementary School in Haikou, the provincial capital of Hainan. [Photo/Xinhua]
Technology of Internet Plus transforms landscape of education in China
More than 20,000 students from 31 junior middle schools in Beijing's Tongzhou district have two teachers for each subject. One is a class-based teacher at their school; the other is a Beijing Excellent Teacher who offers regular tutoring and personalized tutoring online.
These students are benefiting from Beijing's Middle School Teachers Online Tutoring Service Platform, a project initiated by the Beijing Municipal Education Commission and first adopted in Tongzhou. It encourages core teachers from Beijing's public middle schools to offer real-time tutoring for free, especially to students at less advantaged schools.
The project collects data from students' entire learning process, analyzes the information to identify learning problems, and models the structure based on their knowledge and ability. It then presents a personalized analysis report to students, teachers and parents.
Li Yi, deputy director of the Beijing Municipal Education Commission, considers it a public-service innovation thanks to the development of Internet Plus and big data technology.
"This is a very effective way to share high-quality educational resources and provide an accurate, personalized education service," Li says.
Information technology has been revolutionizing educational development for the past five years. At a recent forum on technology and education, Vice-Minister of Education Du Zhanyuan said China will promote the application of information technology to advance education reform and ensure equitable access to education.
"In the past five years, internet access rates in primary and secondary schools have risen from 25 percent to 90 percent, and multimedia classrooms have increased from under 40 percent to 83 percent. The number of online learning spaces for teachers and students has soared from 600,000 to more than 63 million," says Du.
"Using information technology, we solved the shortfall in the number of courses being made available to more than 4 million students in remote and impoverished areas, where there is a serious shortage of teachers."
Du says the application of internet technology calls for cooperation between education and industry. Some education technology enterprises are integrating technology and the internet into their education programs to provide children with a better learning experience.
Chinese firm TAL Education Group has developed a "Magic Mirror System" based on facial recognition technology and artificial intelligence. The camera captures students' facial expressions in class and analyzes their levels of concentration and comprehension. The system generates a learning report for each student, and this feedback helps tutors to quickly adjust their teaching programs accordingly.
Chinese internet giant Baidu is also betting on technological innovation in education. Baidu Education has cooperated with more than 1,000 schools and more than 5,000 educational organizations. Recently it launched the Baidu Intelligent Class system to help educators explore student-centered teaching models and provide learning resources tailored to the individual.
"We will integrate Baidu's cutting-edge technology such as AI, big data and cloud computing into educational applications," says Baidu President Zhang Yaqin.
Michael Moe, CEO of US-based Global Silicon Valley Capital, has studied education technology enterprises globally. GSV Capital has invested in online education platform Coursera and organized the annual ASU-GSV Summit on education technology.
Moe says Chinese education enterprises have been stepping up their presence at US education expos. "Many internet-based enterprises in China have carried out innovative exploration in education and China's education technology industry stands at the forefront of the world," Moe says.
He cites VIPKid, an online English education company in China, as an example of China's potential in the growing sector. "It's hard to imagine a young Chinese education startup growing like this in less than five years."
He believes that in the knowledge-based economy, education increasingly makes a difference to not only how an individual does, but how a company performs, and how well a country progresses.
"China is a country that puts emphasis on education. I believe more successful education technology enterprises will emerge to change the landscape of education," he says.