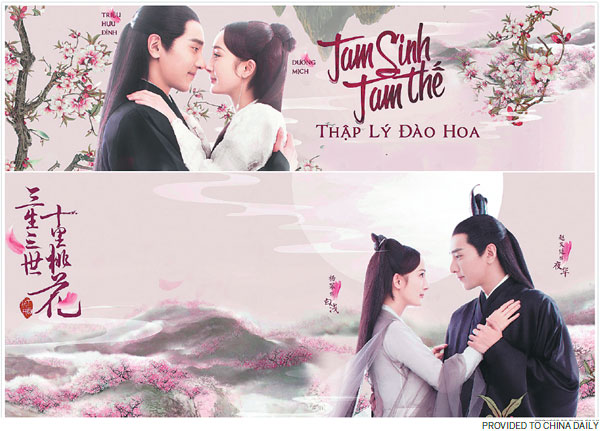 Experts say cultural factors play key role in growing popularity of entertainment programs
On the campus of the Foreign Trade University in Hanoi, a small group of youngsters were engrossed in discussion with a laptop screen in front of them showing a paused scene of the Chinese variety show Running Man.
Hoang Cam Tu, 21, together with her friends from the university's Chinese Studying Club, has been drafting a plan for the university's festival in September.
As fans of Chinese TV shows such as Running Man, Crime Scene and Happy Camp, they are planning to choose some funny and energetic games from the shows to present at the festival.
For many Vietnamese youngsters, Chinese TV shows have gradually become an important part of their entertainment diet.
With an understanding of the importance of Chinese films and TV shows, Tu says that it's also the presence of well-known movie and television stars that helps lure a large number of international viewers to the shows.
"We can see how celebrities behave in real-life situations. They are far more connected to the audience when they are not following scripts," she says.
A few days ago, hundreds of local fans gathered in Vietnam's Ho Chi Minh City to welcome the film crew and cast members of China's Amazing Race. The team received uninterrupted attention from Vietnamese media and netizens during their five-day trip filming in the country.
"Shows can present the true identities of celebrities. Thanks to this, we can get to know more about our idols and feel more connected to them," Tu explains.
Chinese music shows are also popular among Vietnamese youngsters. "I spend 1-2 hours a day online watching Sing My Song and Come Sing with Me, Hanoian Nguyen Phuong Linh, 25, says.
"The shows prove that even ordinary people can shine on the stage with a great performance," Linh explains as to why the programs are appealing to her.
Sing My Song, China's talent show requiring contestants to perform their original compositions rather than singing songs by others, had its first Vietnamese version produced in 2016 by local firm Cattiensa Media. After being aired on a national television channel, Sing My Song quickly became one of the most favored shows in Vietnam.
Realizing the new appetite of a young audience, online platforms started screening a greater variety of Chinese shows, including traveling programs (Divas Hit the Roads, Flowers on Trip), reality shows (Awesome Challenge, or Up Idols) and other genres such as dating (We Are in Love) or family-related shows (Dad, Where Are We Going).
To meet Vietnamese audience's huge demand for Chinese shows, more and more Vietnamese teams specializing in entertainment programs are being established to make subtitles.
"On the Subteam's Facebook fanpage, followers send us messages and comments every day about our translating schedule," says Yu, head of the Earth Subteam, which is one of the most reputable translation groups devoted to Chinese shows. "That is stressful, but motivating," she smiled.
Having started the team in July 2015, the 26-year-old woman says she has been very happy seeing youngsters nationwide, who have the same passion for Chinese entertainment programs, joining the community.
At first, the team produced subtitles for the shows they liked on a voluntary basis. "We just want to spread joy," says Yu. Now, with their translations purchased and published by many video websites, joy is being spread even further.
Compared to entertainment programs produced by other countries, South Korea for instance, made-in-China shows have proved their unique attractiveness.
"They are very reasonable in length. Most shows last for just under 15 episodes each season - short enough to please both translators and young audiences, who are usually less patient than the elderly group," analyzes Yu.
Also, as Chinese shows are abundant in quantity and various in genres and themes, viewers of different tastes have more chances to find their favorite series.
For Tu, Chinese shows not only help her refresh from classes, but also increase her knowledge in a relaxing way.
"Historical events, beauty spots and many social aspects of the country are reflected in the shows. It's awesome that you can have fun and acquire knowledge at the same time. Students like me really enjoy that," Tu explains excitedly.
Meanwhile, experts maintain that cultural factors play a critical role in helping Chinese entertainment programs win the hearts of Vietnamese youngsters.
"Vietnam and China are neighboring countries, sharing many similarities in politics and culture. This is very advantageous for Chinese cultural products to be well-received in Vietnam," says Tran Thi Thuy, vice head of the Culture-History Research Department at the Institute of Chinese Studies under the Vietnam Academy of Social Sciences.