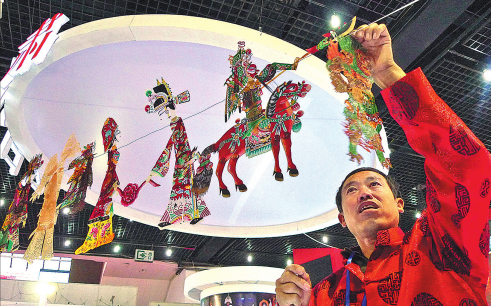 A craftsman from Huanxian county, Gansu province, shows puppets at a cultural expo. [Photo by Li Shengli/China Daily]
A couple of deft hands deploying legions of figurines and telling stories with a few bamboo sticks-this is the art form of Daoqing Piying, a type of shadow puppetry from Huanxian county, Gansu province.
The folk art dates back to before the Qin Dynasty (221-206 BC), and was exported to West Asia and Europe during the Yuan Dynasty (1271-1368), according to local records. It was listed among the first group of national intangible cultural heritage items in May 2006.
Because the county neighbors Shaanxi province and the Ningxia Hui autonomous region in Northwest China, the local variety of shadow puppetry has absorbed characteristics from other art forms in nearby regions.
A Huanxian shadow show is performed along with Daoqing, a type of local opera that combines the styles of neighboring regions-Qinqiang Opera in Shaanxi and Longju Opera in Ningxia.
In addition to maneuvering a puppet, the leading puppeteer generally performs all the songs and spoken parts in a show, regardless of the roles' gender, accompanied by four or five people on musical instruments and the chorus. Such puppet shows may last three to four hours, China Intellectual Property News reported.
"The striking difference between the Huanxian puppetry and those of other regions is that our puppets are made from cattle hides, rather than commonplace donkey hides," said Gao Qingwang, an inheritor of the puppetry in the county and also a master of puppet making.
To date, more than 100 Daoqing Piying operas have been preserved. Most of them are adapted from folklore, historical legends and classical novels.
To promote intangible cultural heritage, the authorities have invited senior puppeteers to local schools for training or lecturers.
Li Yansheng, a painter at the China National Academy of Painting and a deputy of the Chinese People's Political Consultative Conference, said: "Intangible cultural heritage is the root of the Chinese people. Its preservation is one of the most pressing issues of improving our cultural confidence."
In Ningxia, intangible cultural heritage has also been employed as a means to reduce poverty in rural areas.
Zhao Xiulan, an inheritor who runs an embroidery program in Wuzhong, has trained hundreds of rural residents since last November, many of them from poor families, including some disabled women.
After learning the embroidery skills, they could earn up to 3,000 yuan ($430) a month, Zhao said.
Zhao's company, Xiulan Embroidery Charity, was founded in 2013 and has signed labor contracts with more than 200 embroidery workers, the majority of whom are her former trainees. The company generated nearly 3 million yuan in annual sales last year.
The autonomous region's officials told Xinhua News Agency that they have supported 34 companies involved in making cultural products with strong local flavors and 25 cultural programs to help more villagers escape poverty.