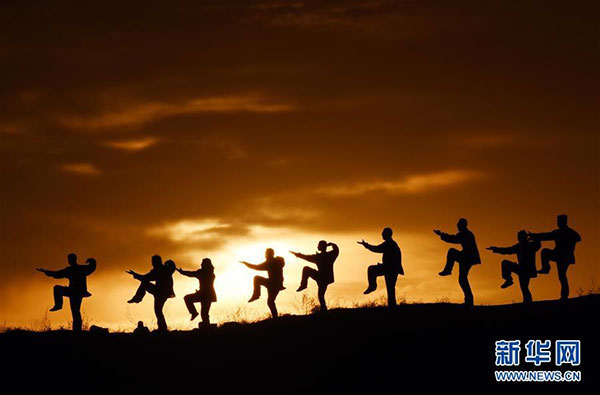 Exercisers produce balletic formations in front of the rising sun to train tai chiskills in Hohhot on Feb 20, 2017. [Photo/Xinhua]
The Chinese Peasants and Workers Democratic Party (CPWDP) will propose the inclusion of tai chion the UNESCO World Intangible Cultural Heritage List at the upcoming annual Two Sessions, in an effort to protect and promote the traditional sport.
As an internal martial art practiced both for self-defense and health, tai chihas spread to more than 150 countries and regions, being adopted by over 300 million practitioners. Despite its popularity, research on tai chiis scarce, and its promotion relies primarily on non-governmental forces.
Though tai chiis widely recognized as a symbol of Chinese culture, and was listed as an intangible cultural heritage by Chinese authorities in 2006, its protection and promotion still lag behind foreign athletic practices like yoga, Thepaper.cn reported.
"Yoga was listed as a UNESCO intangible cultural heritage in 2016, a status that helps to protect the culture of yoga. Chinese authorities should recommend tai chito UNESCO as soon as possible, as surrounding countries like Japan and South Korea are also keen on the martial art, and may claim it as their own before China makes the move," read an announcement from CPWDP.
China has been campaigning for the inclusion of tai chion the UNESCO list since 2008. However, due to UNESCO's strict criteria for intangible cultural heritage evaluation, the application is still pending as of press time.
"The biggest problem with Tai Chi's inclusion on the UNESCO list is the lack of accurate translations of tai chitheories and philosophy. For instance, the tai chitheory that man is an integral part of nature is hard even for [Chinese practitioners] to understand, let alone foreign experts," Yan Shuangjun, a tai chiexpert, told Xinhua News Agency in 2014.
CPWDP is now calling for the establishment of a national tai chicenter, as well as the introduction of martial arts to universities and medical research facilities. Authorities hope these changes can increase academic research on Tai Chi.
Founded in Shanghai in August 1930, the CPWDP now has more than 144,000 members, including many leading intellectuals in the fields of medicine and healthcare.