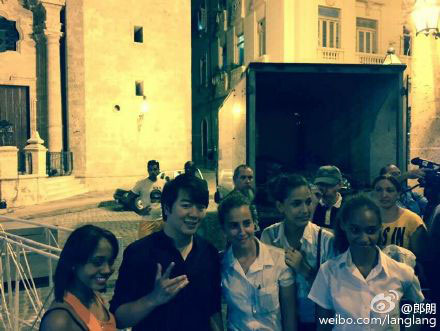 The pictures taken on Octo shows Lang Lang taking pictures with local fans. [Photo/Weibo]
Chinese pianist Lang Lang is to perform in a concert with "Chucho" Valdes for Havana's 500th anniversary celebration in Cuba tomorrow.
The concert will be held at Havana's Cathedral Plaza, one of a series of events held throughout the year to commemorate the founding of one of the oldest cities in the Americas.
Valdes, the popular, multi-award winning Cuban musician, who has thrilled audiences around the world, says it's exciting to play with Lang Lang.
"It's a treat to have an artist of the stature of Lang Lang doing a concert here, on the 500th anniversary of the city of Havana, the founding of the city of Havana and the people, it's good, the public is very excited, everyone wants to see the concert, wants to see Lang Lang, the symphony and what we're going to do, so this is going to be incredible."
Both pianists will be working with an American conductor and Cuban orchestra.
Lang Lang says it is a perfect chance to make his first visit to Cuba.
"It's incredible for me to come to Cuba for the first time. I know Havana, the city, from films, from books, from movies, from the internet, for so many years, and such a beautiful city and tomorrow's concert is going to be very special, because we are marking the city of Havana's 500 years of celebration and to be in the same concert with my good friend Chucho Valdes and playing Cuban music, in Havana, that's going to be something."
The vintage Steinway and Sons piano he'll be using for this performance will be donated after the concert to train future Cuban musicians.