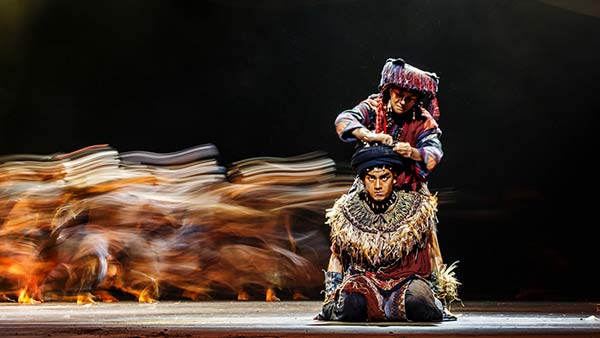 Muomaamei is an epic of Hani people's migration history. Provided to China Daily
After a successful debut at Honghe Grand Theater in Yunnan province, the music drama Muomaamei, which depicts the story of the Hani ethnic group's migration, will be staged in Beijing this weekend.
The ethnic group is believed to have originally migrated from the Qinghai-Tibetan Plateau after conflicts with other tribes there some 1,300 years ago, and settled in the mountainous areas of southern Yunnan. The Hani Rice Terraces are a UNESCO World heritage site since 2013.
The Honghe Hani and Yi autonomous prefecture there is also famed for its two major ethnic groups, the Yi and the Hani, whose members are known for their songs and dances.
Muomaamei, which is made up of six parts, narrates how the Hani people suffered conflicts and rebuilt their community. In Hani language, the title translates to "beautiful homeland".
Led by Chinese dancers Luo Wenbo and Liu Jia in collaboration with actors from Singing and Dancing Troupe of Honghe County, the show is directed by Xu Rui and Wang Ge, who have collaborated in previous dance performances, including Red Sorghum, which is based on the novel with the same name by author Mo Yan, who won China's first Nobel Prize in literature.
The scriptwriter, Zhou Chudong, who is also the director for the 64-year-old Honghe troupe, borrows the story from an ancient poem, titled Hani People's Ancestors Across the River. The dance performance also incorporates old folk songs of the Hani people that are sung during special occasions, including harvest time, weddings, funerals and the worship of ancestors and nature.
The dances such as zongshan, which has performers using palm leaves to mimic animal movements, and manggu, a kind of sacrificial dance supported by the beating of drums to frighten wild animals, are part of the show.
According to Xu, the audience will see the most primitive ethnic dance of the Hani people as well as a mix of ethnic and modern dances.
"For years, we have based our performances on the authentic music and dance of ethnic groups of Yunnan, especially the Hani people. The story of Muomaamei well combines history with Hani songs and dances. It's an epic," Zhou says.
If you go
7:30 pm, Oct 10-11. Tianqiao Theater, 30 Beiwei Lu (Road), Xicheng district, Beijing. 010-8315-6170