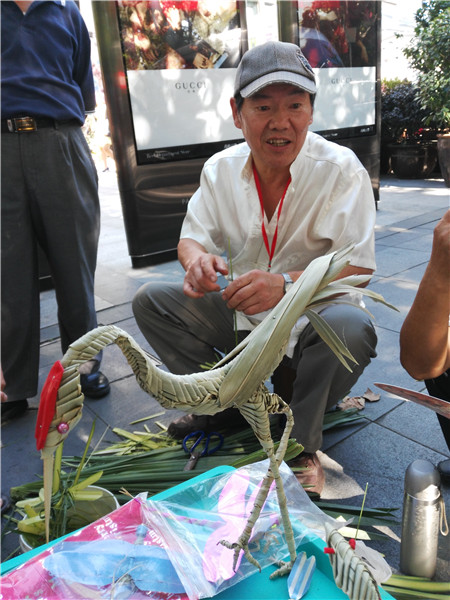 Street performer Hu Licheng is at Jing'an Park on Sept 19. [Photo by Li Xueqing / China Daily]
After cutting a palm leaf into three pieces and knotting them together, Hu Licheng quickly weaved the stomach of a cricket. "Hold this for me," he said as he handed the partly-finished handicraft to a boy near the gate of Jing'an Park in Shanghai. He then made the cricket's head and wings.
It was a Saturday afternoon and the 61-year-old was surrounded by children waiting to get one of his weaved creatures, which range from grasshoppers and dragonflies to lizards and roosters.
Girls like butterflies and boys prefer the mantis, he said, adding that foreigners usually buy a frog or cricket, suggesting perhaps that it was because they best resemble the real thing.
To get his street performance license from the Shanghai Performance Trade Association, Hu said he impressed a panel of judges with his grass weaving skills. Using just palm leaves, an awl, scissors and red thread, he said he can make a dragonfly in just 5 minutes and a butterfly in 10.
He was one of the first to receive a license after the Shanghai authorities introduced them late last year. Since then, he has become a popular weekend attraction in Jing'an Park. On a good day, he said he can make several hundred yuan in one afternoon.
"I treasure this opportunity very much. After all, I'm too old to run away from the chengguan," he said, referring to the city's urban patrol officers.
Hu has been weaving grass for 20 years. He used to work at a food factory in Shanghai but was laid off in the 1990s. It was then that he thought he'd try making a living from his hobby.
"I had a friend give me some advice at the beginning, and now I spend a lot of time studying to learn new designs," he said. "Sometimes I see a grass weaving that I don't know how to make, so I buy it, take it apart and study it."
Grasshoppers are the easiest to make. "It takes about an hour to learn, but much more time to be skillful at making it," he said, adding that a rooster takes him two days to finish.
His craft is not only popular among children, but also adults.
"I love it," said Li Qiong, who bought a butterfly for her daughter for 10 yuan ($1.50). She also videotaped the whole weaving process.
"Many people say they haven't seen this handicraft for 30 years," Hu said. "When I hear that, it saddens me. Grass weaving is part of our intangible cultural heritage. It's a pity that today's young people don't learn it anymore."