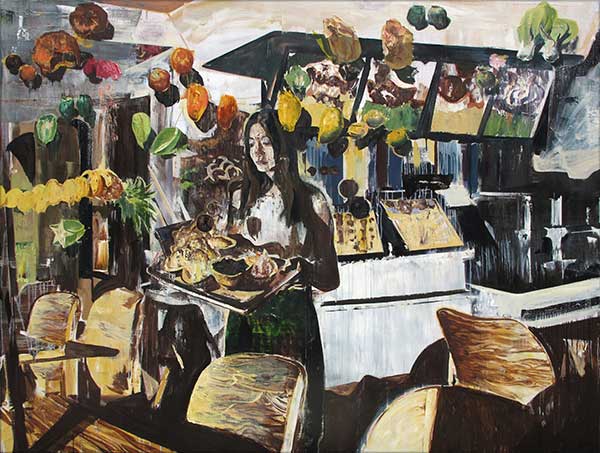 Exhibit-A Meal, oil on canvas by Gong Chenyu, is one of the works on display at Beijing's Today Art Museum.[Photo provided to China Daily]
Art Nova 2015, an exhibition for young artists from China and abroad, will be held in Beijing next week.
About 350 local and foreign artists are expected to participate in the annual event that started in 2011, encouraged by the increasing displays of paintings, sculptures, installations and videos of students of the fine arts.
Works by young artists have caught the attention of art agents in recent years. Ivy Art, funded by private art agents, and Youth Plus, supported by National Endowments for the Arts, a government agency, hosted such shows in Beijing this month.
An Ivy Art show was held at Today Art Museum in Beijing from Sept 12-21, drawing a large number of visitors, including well-known artists, curators and critics. The gallery exhibited more than 300 pieces by 126 artists.
"For young artists, it is the best and worst of times," says Fang Datong, who founded Ivy Art to fund and promote young talent through exhibitions.
He explains that while young artists today have enough opportunities to promote their work, at the same time, they can easily get lost in the art marketplace.
According to Report on Global Market 2014, co-released by Artron and Art Price in March, the demand for young artists' works is on the rise in China.
More global auction houses are opening such sections as well.
One of the young artists who sold well at auction houses is 32-year-old Hao Liang. His hand scroll The Tale of Clouds went for 5.6 million yuan ($875,000) at Christie's Shanghai last fall. The report points out that the average price of works by Chinese under 35 years old is about $100,000, lower than their Western counterparts, who are likely to fetch $300,000 per work.
Art Nova usually selects works presented by artists themselves and takes them on tours within China and outside. This year, the number of attendees at the exhibition has increased to 3,000 from 800 five years ago.
Peng Wei, managing director of Art Nova, says that holding group exhibitions is still part of the learning experience for art agents in China. Her project also seeks to find corporate sponsorships and funding from public institutes for young artists.
Peng says that five years ago, there were few such platforms for young Chinese artists. Their establishment has successfully attracted people's attention to a generation of future artists. During the past two years, more than 10 projects have been held to promote and help young artists, according to the media.
Xu Jialing, curator of CYAP, another youth art project founded last year, says that although the number of such projects may look good, the larger question is: To what extent are young artists actually benefitting from them?
CYAP is a 10-year platform for youth art and gets the young connected with established artists, curators and critics.
"We still need to explore ways of helping the young effectively rather than just holding shows," Xu says.