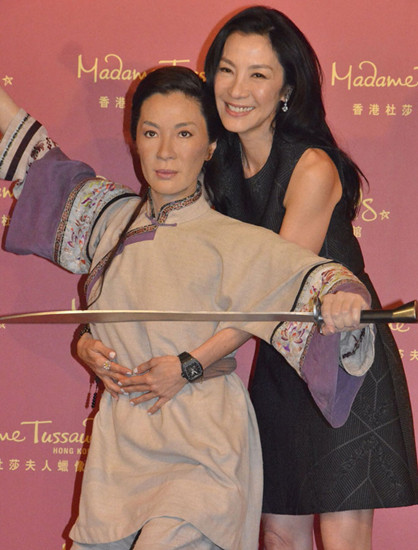 Michelle Yeoh poses for photos with a waxwork on her character. [Photo/CNTV]
Michelle Yeoh's illustrious film career has spanned a variety of genres, but she is best known for her martial-arts roles. Fans will get another chance to see her slick moves in the upcoming sequel to 'Crouching Tiger, Hidden Dragon'. In the meantime, Madame Tussauds have depicted her character in wax.
It is a formidable line-up: Yeoh's martial-arts heroine alongside Bruce Lee, Jackie Chan, and Donnie Yen.
Madame Tussauds of Hong Kong is honoring the famed Malaysian actress with a waxwork based on her character, Yu Shu Lien, from the original 'Crouching Tiger Hidden Dragon' film released in 2000.
But fans will get the chance to see her in action all over again with the upcoming release of 'Crouching Tiger, Hidden Dragon II: The Green Legend' in early 2016.
In the meantime, fans can enjoy Yeoh's work on the TV series 'Strike Back', and another show to be shot in Budapest.