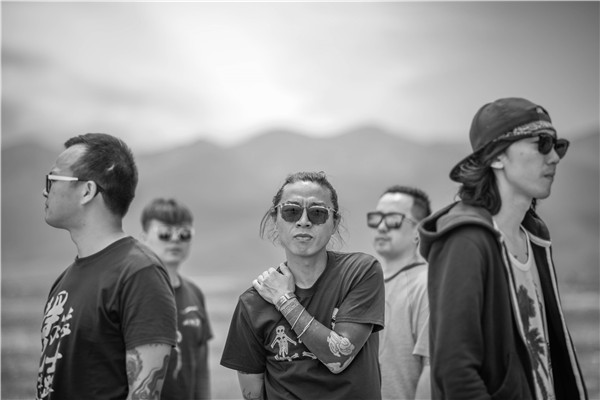 Chinese rock band Miserable Faith, with Gao Hu (center) as the lead singer, will launch a 12-city tour on July 28. [Photo by Zhang Yang/China Daily]
Rock star Gao Hu loves to travel.
He answered questions from China Daily on the phone while on his way from Beijing to his hometown, Ganhezi in Fukang, a small industrial city in the Xinjiang Uygur autonomous region.
With more than 300,000 followers on the Chinese micro-blogging platform, Sina Weibo, his band Miserable Faith is one of the most popular acts at outdoor music festivals and live-house venues in China.
"I was born there and it's been eight years since I went back," says Gao, the band's founder and lead vocalist. "I want to show my closest friends what my hometown looks like."
The band will kick off a 12-city tour across the country on July 28.
Before the tour, the band will perform the closing gig at the Zhangbei Music Festival, which will take place on July 24-26 in Zhangbei, a small county in Hebei province located near the Inner Mongolia autonomous region.
Gao longs for a nomadic lifestyle. The bumpy roads and changing scenes outside the window of his vehicle excite and inspire him, the 41-year-old singer-songwriter says.
While spending too much time on the road can be tiring, it helps him think about new songs.
In 1997, Gao came to Beijing to learn the guitar at Midi Music School. Founded in 1993, it gives training in rock, blues and jazz, among other kinds of music.
There he met Zhang Jing, another student who later became the bassist of Miserable Faith. They practiced the guitar for hours daily and they watched movies and documentaries on Western music as well as listening to it.
"I was fascinated with the variety of their music, and my dream was to perform onstage, playing my own music," says Gao, recalling that the most memorable videos from the time were of performances by established bands such as AC/DC and Metallica in Moscow in 1991.
The band was founded in 1999. Miserable Faith's debut album, This Is a Question (2000), turned the band into a pioneer of rock music in China. In addition to Gao and Zhang, the band now also includes drummer Da Wei and guitarists Tian Ran and Song Jie.
In 2006, after releasing the extended-play recording No, the band toured 51 cities in the country, starting from Beijing. Gao believes that the more places the band visits, the more people will know their music.
"I can still remember vividly some of the scenes during that three-month trip. Our bus broke down and we had to push it all the way to a station on the highway. It was raining, and we ran very fast down a slope," Gao says, laughing.
Along the tour, they performed at small live-house venues, where they got drunk along with audience members at the end of the shows.
In their 2008 album, Don't Stop My Music, Gao's music was inspired by Jack Kerouac's novel, On the Road. One of the songs, An Yang, which Gao wrote to bid farewell after a show to An Yang, a city in Henan province in Central China, became one of the band's biggest hits. Other songs, such as The West Lake and The Road Song, documented unforgettable moments of the tour.
Don't Stop My Music won the band some of China's top music awards.
For Gao, the album marked a transition for the band from "expressing themselves in a furious way to delivering a message of meditation with an open heart".
Their latest album, May Love Be Without Worries, combines world music and reggae elements, inspired by Bob Marley.
In April, the band handed over their contract to Modernsky, the country's biggest indie record company.
"I'm proud that many big Chinese rock bands graduated from Midi," says Zhang Fan, director and founder of Midi Music School, who also launched the country's first outdoor music festival, Midi Music Festival, in 2000. Miserable Faith has been performing there since its first year.
Indie rockers could barely make ends meet in China back then.
But now some of the bands, like Miserable Faith, can perform in front of tens of thousands of people, he adds.
"It's a great leap forward for China's rock music."