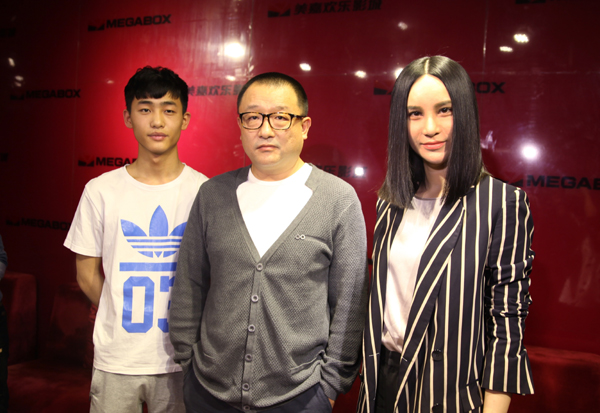 Chinese director Wang Xiaoshuai (center) and singer Shang Wenjie (right). Photo provided to China Daily
"It takes lonely days, sleepless nights and an inevitably self-centered eye to create a great artwork, whether it's a movie or a piece of music," says Chinese singer-songwriter Shang Wenjie, referring to Chinese director Wang Xiaoshuai's latest movie, Red Amnesia, which premiered on May 1.
The 33-year-old Shang, who performed the theme song for Red Amnesia, turned up in Beijing recently along with director Wang, to show her support for the movie. Due to the low screenings, the movie just earned $1.42 million at the Chinese box office on the first week after its release.
"All my effort has failed in front of the grueling reality," says the director, who is known for his art-house movies, especially for Beijing Bicycle, a Silver Bear winner at the Berlin International. "The low screening for art-house movies murders the creativity of director, which is also a disaster for moviemakers."
Red Amnesia, considered as the director's last film of the "cultural revolution: (1966-76) trilogy, including 2005's Shanghai Dreams and 2011's 11 Flowers, tells the story of a retired widow, played by award-winning actress Lu Zhong, who suffers from the psychological impact from her past. The movie was a nominee for the main competition section of the 71st Venice International Film Festival.
"Art-house movies deserve more attention and respect because they contribute to the variety of China's movie industry and introduce a different artistic angle for the audience," says Shang, who also compared her music with Wang's art-house movies. "Most of my songs are regarded as 'minority taste' and 'non-mainstream', but those songs express who I am and what kind of music I want to share with the listeners."
Shang, who rose to fame after winning the third season of the Chinese singing contest Super Girl by Hunan Satellite TV Station in 2006, is known for her electronic music composition and bizarre outfits — often compared to Lady Gaga by her fans. Now she is working on her new album, which continues her distinctive style.
"I won't write songs just for the sake of the market. The market should give enough space for songwriters like me to display our works," she says.