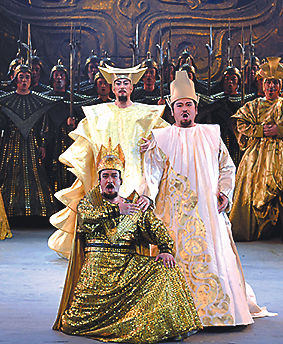 Love story of Su Wu is a focus of the opera Da Han Su Wu. Photo provided to China Daily
For more than two decades, Chen Wei has devoted a lot of her time to Chinese opera.
To Chen, a graduate of Central Academy of Drama, the term "Chinese opera" means Chinese stories and music conveyed through Western-styled operas.
"My first 10 years as an opera director was a struggle. I was young, passionate about opera, but it was hard to find a good script and good music," says Chen, who is credited with chamber productions such as Farewell Again, Cambridge and Red River Valley. "But now the situation is different."
What got Chen thrilled recently is the original Chinese opera Da Han Su Wu, which will be staged on May 16 and 17, at the National Center for the Performing Arts.
As a part of the ongoing annual opera festival held by the NCPA, which kicked off on April 9 and runs through July 12, Da Han Su Wu tells the well-known story of Su Wu (140-60 BC), a Han Dynasty (206 BC-220 AD) diplomat.
He refused to surrender to the enemy and as punishment was detained and exiled to an area near Lake Baikal in the Russian region of Siberia, to lead a lonely shepherd's life for 19 years until he was set free. He then returned to China.
The opera premiered in August 2013, and it has been revised four times since then.
According to Chen, the three-act opera, which is presented by the Shaanxi Song and Dance Troupe, focuses on Su's loyalty and emotional side, especially his love story.
"When we find language inadequate to express the emotions we want to convey, it's time to turn to music," says the opera's composer Hao Weiya, who is known for scoring original Chinese operas commissioned by NCPA, such as Hua Mulan and A Village Teacher.
Chen says that like many Western operas, Hao's composition is grand. But traditional Chinese folk music, especially folk music from Shaanxi province, from where Su Wu hailed, has been added.
"When you hear the sound of Chinese folk instruments in a Western-styled opera, the character of Su Wu becomes vivid and real instantly. He is a human being, not just a history book hero. That's what I call a Chinese opera," Chen says.
If you go
7:30 pm, May 16-17. NCPA, 2 West Chang'an Avenue, Xicheng district, Beijing. 010-6655-0000.